Design Awards
Juried Awards will be announced on
May 10 at 6:00 PM CST
A special thank you to our juror, Henry Ngo
Henry Ngo is an Art Director & Designer based in Houston, TX. For the last decade, he has focused on brand identity and development for a variety of industries that include hospitality, industrial, retail, non-profit, e-commerce, and more. He is currently a Sr. Art Director at Thrasio focused on consumer packaged goods branding and believes that collaboration and communication are keys to successful design.

A graduate from the University of Houston, Henry currently serves as the President of the AIGA Houston chapter to help build and grow the Houston creative community through a focus on DEI initiatives, community & educational programming, and mentorship. He found his interest in art and design through comic books and how complex stories were told through imagery and pacing. He's also a big fan of professional basketball and hopelessly holds out hope that the Rockets will someday win a championship again.
Best of show
Best overall portfolio
Chris McKnight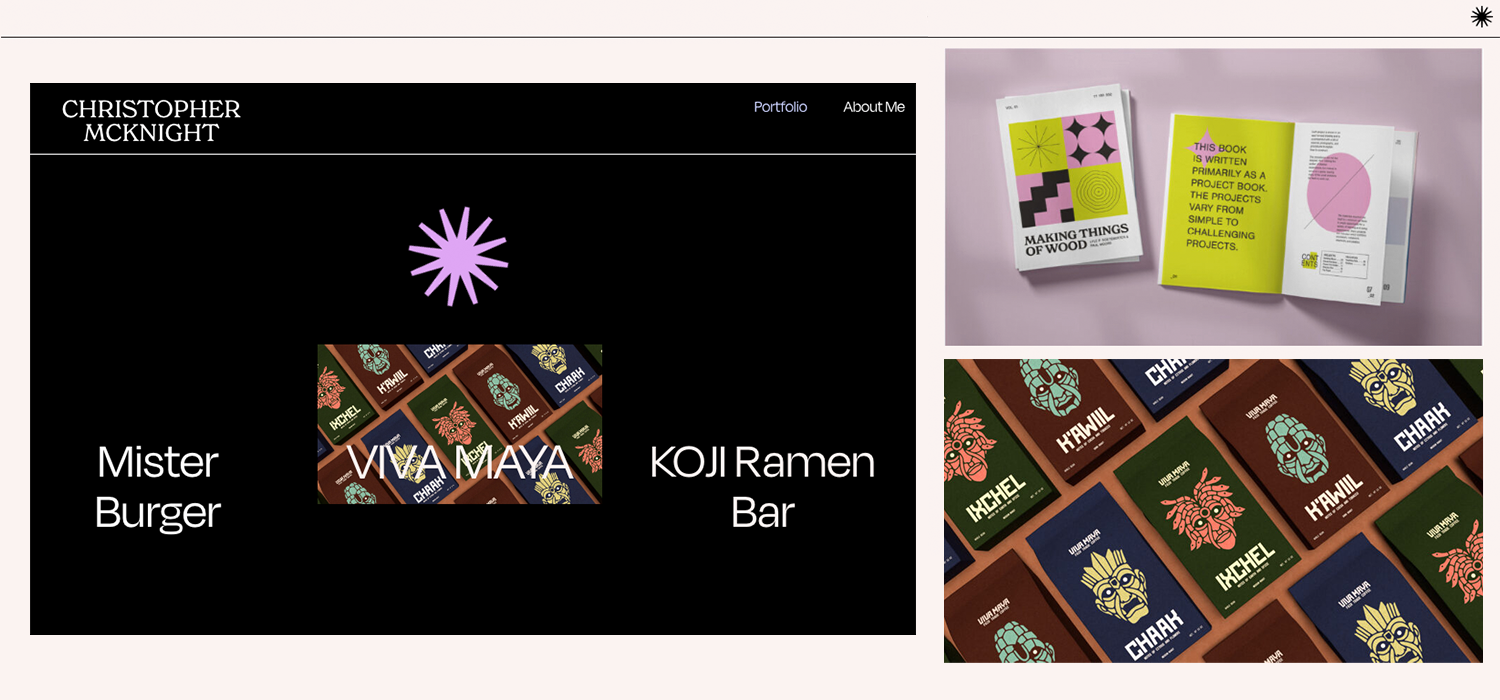 "Chris's overall portfolio is fantastic. He shows an amazing range of stylistic approaches with exceptional skills in typography, branding, illustration, and overall composition. His thoughtful approach to brand development shows great attention to detail and story building. He has a strong sensitivity to the subject matter behind his concepts and this can be seen within the story and details of Mister Burger, Koji, Make Things Wood, and his poster series."
Honorable Mention:
Kelly Willis
Best Corporate Identity
La Familia
Sara Saenz
"The visual identity developed for La Familia was very thoughtful. The approachability of the logomark, typography, and illustration all come together to build a truly inviting brand which can be seen throughout the different applications."
Honorable Mention:
Amanda Saucedo
Ladder
Liz Hayes
Corvidae Roastery
Best Packaging Design
Berrie Bots
Amanda Saucedo
"Amanda's playful approach and style came through strongly in this packaging concept. The reusability of the fruit snack boxes into a fun collectible object and toy is a great idea."
Best Publication Design
Mushroom Guide
Lindsay Richardson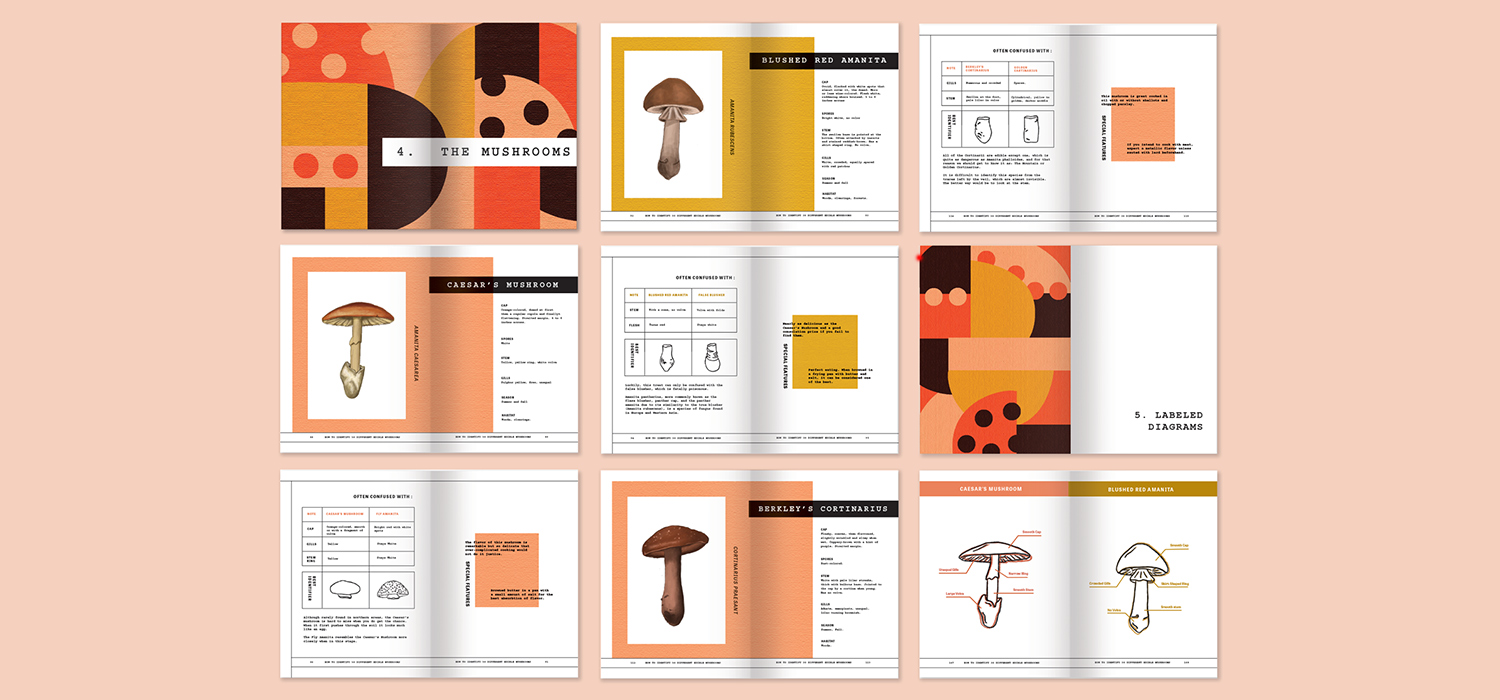 "Lindsay did a great job of implementing different layouts and elements into the guide that helped guide the viewer throughout the book. The use of a consistent color palette, patterns, and illustrations help add personality to the subject matter. "
Honorable Mention:
Kelly Willis
Joy of Keeping Chickens
Best Poster Design
Kobi
Charley Dunne
"Charley's use of fruit in the posters for Kobi really stood out. They were energetic and colorful and truly eye catching. They were a great representation of the personality of Kobi. "
Honorable Mention:
Danielle Onwuka
Diversity Poster
Best Illustration
Diversity Posters
Kelly Willis
"The illustrations of the cephalopods within these posters are truly beautiful. The use of them throughout the compositions within the other pieces as design elements and form were a great addition that added mystery to each creature. Along with that, their contrast against the black really shows off a dynamic use of color. "
Honorable Mention:
Bri McKinney
The Queen and I
Best Interactive Design
Davy
Bri McKinney
"The overall UX of the Davy's Park App was very well thought out from the from the flow of the information to the micro interactions. The inclusion of the map and iconography to help call out key points in the area help present a strong concept for what this app could potentially become. "
Honorable Mention:
Sara Saenz
Fox Tales
Best Book Cover Design
Wild Embers
Liz Hayes
"Liz does a great job of bringing in her handlettering to this to represent the dancing of a flame along with effects within to bring across the burning of embers. The contrast of that to the dark photo helps create an elegant cover that starts to tell a story within itself. The addition of the embers to the background of the interior flaps and spine are nice touches to carry that design element throughout."
Best Logo Design
Golden Demise
Lesley Sosa
"The Golden Demise logo has a ton of personality that is simple and fun. The colors stand out on the dark background. I also appreciate a logo that has a strong and recognizable secondary mark. While the crossbones is common icon, the style created here pairs well as a secondary identifier for the brand and main logo."
Best Motion Design
Leap
Danielle Onwuka
"The continuous line that starts to tell the story flows nicely and transitions into the darkness has a feeling of uncertainty and exploration that seems to represent Danielle's journey well."
Honorable Mention:
Bri McKinney
Bully
Congratulations from your proffessors
Taehee Kim
Professor of Graphic Design
"Congratulations, Seniors! With all your hard work and sheer determination, I applaud you. Your parents applaud you; as well as your family, friends, and all those who have seen the work you have wonderfully created applaud you. I am so proud of what each and every one of you have accomplished throughout the years. And with all that you have learned in this journey, I hope you continue to learn, try, grow, believe, and venture beyond. I will miss you all, and get some deserved sleep!"
W. Anthony Watkins
Associate Professor of Graphic Design
"Great class, great work, great show! The class of 2022 has seen it all and persevered; I know that all of your hard work will pay off. Don't forget all of the challenges you faced to get to this point, those experiences are going to be a valuable asset in your futures. Congratulations!"
Sherman Finch
Assistant Professor of Graphic Design
"Congratulations on an stellar exhibition and good luck to you in this next journey. A great a career is one that is engaging, fueled with purpose, and fullfilling. I wish you the best as you step ahead towards new challenges in life. Be Bold, Be Creative, and Be Brave!"